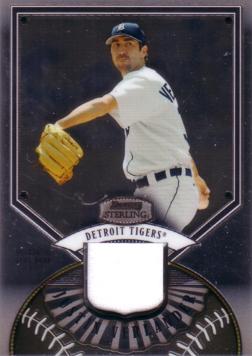 Did you guys know Justin Verlander is pretty good?
Yeah, of course. There's not much I can say here that hasn't been written before. The only thing I can caution is that 2011 seems like a once in a lifetime season not likely to be repeated. Verlander will remain a top five pitcher, and I wouldn't put anything past him, but the numbers probably go back up a bit this year. No fault of his own, of course, but the reality of the situation is that 80% LOB and .236 BABIPs aren't sustainable.
But don't let that fool you. Verlander's place in the upper echelon of pitchers is safe. He will still remain a dominant force in the American League, regression or no regression.
What he needs to work on
Not much. It'd obviously be nice if he could conquer April like he does every other month (he came close last year), and at times he still struggles with inflated pitch counts, but we're nitpicking at this point. He's ironed out many of the flaws in his game that have held him back in the past and has learned how to harness his immense talent and turn himself into a pitcher and not just a thrower.
What he needs to do to improve
Well? If you can believe it, in terms of FIP, 2009 – not 2011 – remains Verlander's gold standard, largely built upon the 10.09 K/9. In fact, Verlander's 2011 FIP was worse than both 2009 and 2010 (2009 was the K rate, 2010 was largely because he limited home runs to the tune of a 0.56 HR/9 mark). So I suppose it's theoretically possible that Verlander could combine such traits and be even better. Wouldn't count on it, though. Plus, he's traded in some of those strikeouts for easy outs earlier in the count, which suppresses his pitch count. Frankly, I'm okay with that approach.
What he will do
No reason to believe Verlander will be anything but an ace among aces, even with regression factored in. He has the work ethic to match his immense talent, which should not be understated. Verlander is still looking for ways to improve. It's a tall order, but whether he pulls it off or not, he's going to remain a stud. Sub-3 ERA and a strikeout rate approaching one per inning are highly possible, and 200 innings is as close to a given as you'll ever get. The wins will come.
Walkoff Woodward Bubblegum Card Prediction
IP 235, K 228, BB 53, 20-6, 2.96 ERA